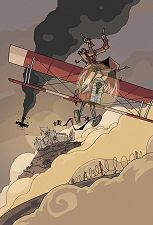 Dan Boultwood is a goddamned genius. Not only is he my partner in crime on THE GLOOM and the other half of
'Two Drunk Guys in a Bar Productions'
, but he's one of the finest men I know.
And now, I can announce another project on the backburner with him - to be done alongside BJORN OF THE DEAD and THE GLOOM Trade -
THE CRIMSON TODGER - HERO OF THE WESTERN FRONT.
That's right, not content with raping the childhood memories of fans of 1940's pulp novels for THE GLOOM, or asking questions about who would win fights between Vikings, Ninjas and Zombies for BJORN - We're kicking the shit out of
Biggles.
Click on the picture to see a larger version of Captain
'Rather Bonkers'
Pennyworth, Royal Flying Corp, flyer of 'The Crimson Todger' - scourge of the Hun!