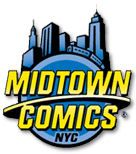 Well, I've just had the email confirming it - On
Thursday 27th July
between 5-7pm I'll be signing copies of STARSHIP TROOPERS, MIDNIGHT KISS and pretty much anything else I've got out at
Midtown Comics
in New York City. And what's even better, I'll be part of a
'Three Amigos'
signing with my good friends
Mike Oeming
(POWERS, ARES, RED SONJA) and
Neil Kleid
(BROWNSVILLE, INTIMIDATORS, URSA MINORS)!
Considering the fact that this was originally going to be Neil and Mike showing me around Midtown (and most likley the surrounding bars), I'm pretty stoked. I've loved Midtown since the last time I was in NYC and it's been a 'tick off task' on my list of things to do for a while. Of course, it's going to be hectic - I finish the signing at 7pm, and I'm on a plane back home by 11.30pm...
More news as I get it.